MEREDITH PLAYGROUP
We are a group of parents who enjoy getting together on a Thursday, during the school terms between 9:30-11:30 at the Meredith Community Centre. The kids can play in a safe environment, we have an activity planned for each session & the parents enjoy a cuppa & a chat.
WHEN : Thursday Mornings – 9.30-11.30
WHERE: Meredith Community Centre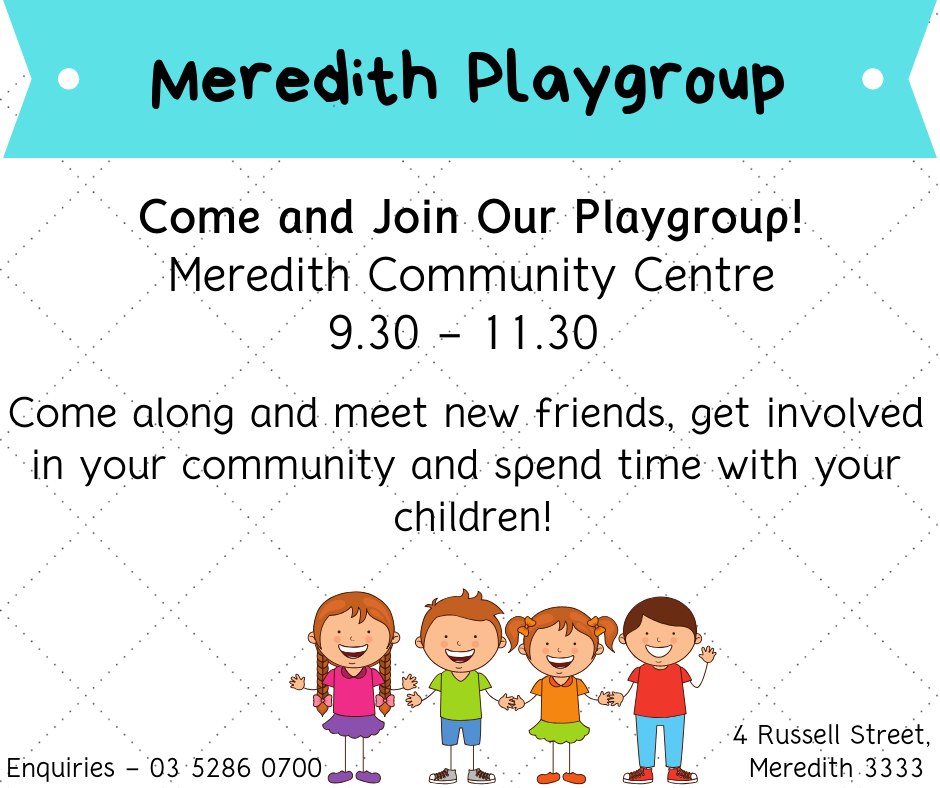 BENEFITS OF PLAYGROUPS
Playgroup is a group of parents/carers and their children under five meeting together to play and socialise.
Going to playgroup connects you to your local community. Parents often talk about going to playgroup every week for themselves just as much as for their child's benefit. How often the playgroup meets and how structured or unstructured the group is, is up to the families that attend. A parent is the first educator of their child and playgroup provides the perfect opportunity for you to take pleasure in this role. When children play they develop language, use their imagination, explore, experiment, learn, practise new skills and express ideas and emotions.
Benefits of Playgroup
At playgroup children can:
make new friends
have new experiences
gain self confidence
develop physically, socially, emotionally and intellectuallY
develop their skills of cooperation
develop verbal and non verbal communication skills through contact with other children and adults
extend their experience of literacy in a social environment.
Our playgroup is held on Thursdays from 9.30-12.00 pm at the Community Centre.
Various fun activities are organised over the term for the children. This is a great way to meet other parents and children in the community. We welcome new parents to our group.
The Meredith Community Centre Playgroup is affiliated with Playgroup Victoria which is a peak body providing resources and support for Playgroups.