MEREDITH PLAYGROUP
We are a group of parents who enjoy getting together on a Thursday, during the school terms between 9:30-11:30 at the Meredith Community Centre. The kids can play in a safe environment, we have an activity planned for each session & the parents enjoy a cuppa & a chat.
WHEN : Thursday Mornings – 9.30-11.30
WHERE: Meredith Community Centre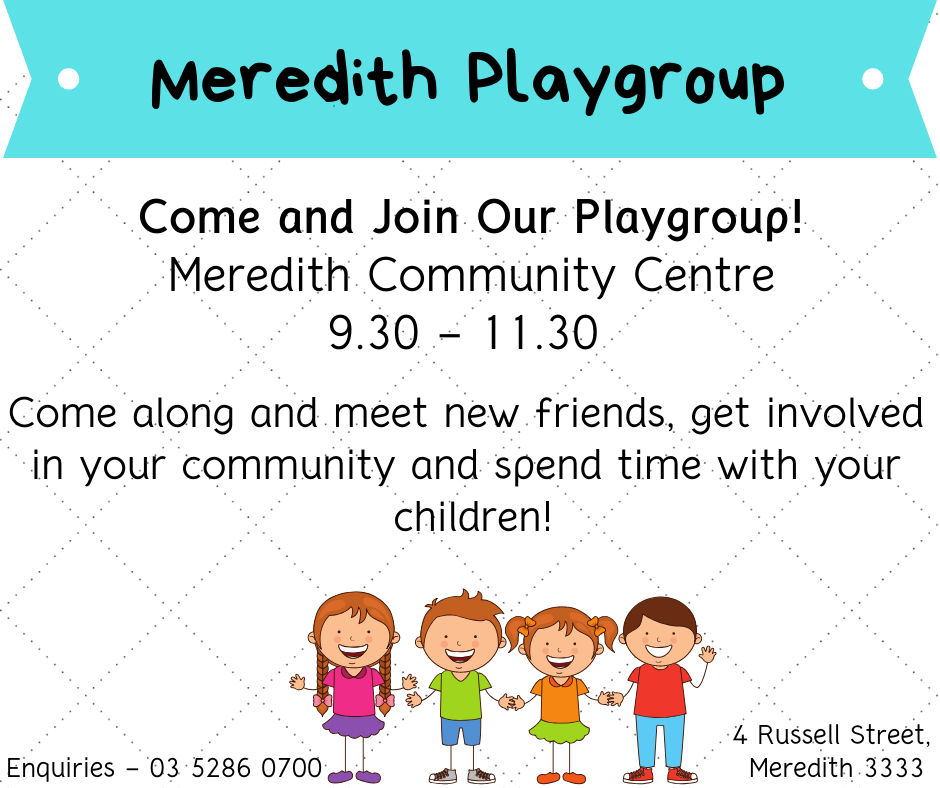 PARENTMEDIC – CHILDREN'S FIRST AID
WHEN: Tuesday, May 7, 2019
TIME: 12pm – 2pm
COST: $45 inc GST
Join Nea as she teaches Infant and Paediatric CPR, First Aid Management for Children's Illnesses and Emergencies, Safe Eating and First Aid for Choking, Identifying the Red Flags in Children's deteriorating Health, Identifying Breathing Difficulties and much much more.
This is a Child & Baby Friendly Event with plenty of space to play
KIDS COOKING CLASS – STICKY FINGERS COOKING SCHOOL
DATE – Saturday May 25, 2019
TIME – 2.00 – 3.30PM
COST – $25 Per Child
ON THE MENU – Cinnamon Scrolls
Get your kids in the kitchen and have them pick up some new cooking skills, they'll make some new friends in the process and may even inspire some future chefs! – They will be making delicious Cinnamon Scrolls to bring home!
Kids from 7-13 are most welcome!

Bookings will Close on March 25, book now to avoid missing out on your place in this fabulous class!
BRANCH INTO MUSIC
WHEN: Thursdays Beginning May 2, 2019
TIME: 2.15 – 2.45
COST: $96 for a 8 week program
Branch into Music offers the chance for parents/carers to explore and share the joy of music with their babies / small children. However to describe these practical, thirty minute classes as music classes does not do justice to the carefully planned activities that explore critical aspects of a young child's development. Early literacy and numeracy, along with fine motor skills, self-awareness and self-expression are all covered in these action packed classes that never fail to capture the hearts and imagination of those who are young and young at heart
AFTER SCHOOL CLUB 
WHEN: TUESDAYS 
TIME: 3.45 – 6.00
COST: FREE
Are you looking for something for your child to do after school on a Tuesday? – Then Our After School Club might be just what you are looking for!
From 3:45, we welcome your child into the Centre for snacks, games, computer time and an opportunity to get to know other children! Lego Minecraft is one of our most popular activities with Children using their creativity and joining with their friends in a safe environment!
If you would like to join us, feel free to email – admin@meredithcommunitycentre.com.au, call – 03 5286 0700 or fill in the Enrol Form to book your place
Looking forward to seeing you all soon!
INDIAN COOKING FOR CHILDREN – 12-18 Years old
WHEN: Saturday June 1, 2019
TIME: 12.00 – 2.00pm
COST: $50
Ronnie started East India trading co as he had a passion for cooking Indian food.
His mother was his inspiration and taught him everything He knows. Cooking food was his getting out of studying.
Ronnie's father was in the Indian Army and he got transferred to a different state every 2 years.
This was a big influence in our cooking and eating habits.
Ronnie's Mum cooked a different dish every morning and they got to eat and experience some yummy food!
On the Menu – Palak Paneer (Spinach based curry with Indian Cottage cheese) or a Paneer Tikka Masala ( Tomato and cream based curry with bell peppers)
Bookings will close on May 29, so book your place today!